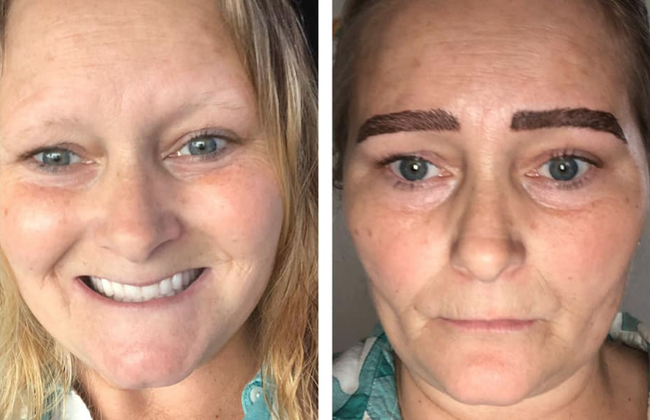 Shannon Bozell of Kalamazoo, Michigan doesn't often spend money on herself, but having grown tired of not having any eyebrows because of some over-plucking in her youth, she decided to spend $350 on microblading. After doing some research about the procedure, in which eyebrows are tattooed on the face, Bozell chose an artist to do the microblading. However, after it was done, Shannon was very disappointed.
She shared before and after pics on Facebook writing, "I went from not having any eyebrows to having the BIGGEST ugliest eyebrows in Kalamazoo." Three days later, she went back to the salon so the person who did the brows could "scrape" off some of the color and reshape them, but Shannon says that caused her eyebrows to get infected and blistered. The artist, who has refused to give a refund, asked Shannon to come back again but Shannon wrote, "I wasn't letting that lady touch me again."
Now she has to spend more money to have the eyebrows removed.